Welcome
We're here on the web to keep in touch with our Vertigo friends and customers, and to help you keep in touch with what's going on at the store and in music everywhere. Check back often (say, weekly) for store coupons, specials, new releases and all the latest info.

Oh, and you can put away your credit card. We're not here to sell you anything…..yet. You still have to come downtown and visit us in the flesh for that.
Black Lips
200 Million
Thousand
(Vice)
The deliberately sloppy, wildly prolific scatter­punk band with the headline- grabbing live shows is poised for a wide break­through on its fifth album.
Steven Wilson
Insurgentes
(K-Scope)
Wilson has recorded a library of material with Porcupine Tree, basically a solo project, and moves in a drone/shoegaze-oriented sound for his first "official" solo album.
M. Ward
Hold Time
(Merge)
Now deservedly playing to a fairly large audience, Ward synthesizes his various writing/production talents on a record that is bright by his standards.
Morrissey
Years of Refusal
(Universal)
Moz's middle-age resurgence has been a pleasant surprise in recent years, and his solid track record continues with a raw-er than usual effort here.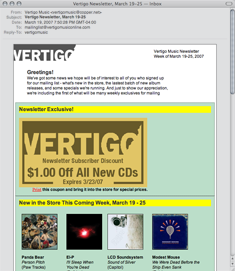 Vertigo Newsletter
Sign up to receive weekly updates and exclusive coupons in your email inbox.
Top-10 Artists Who Made Most Money In 2021
The COVID-19 pandemic has had a significant impact on the music industry. The restrictions brought with them many canceled and postponed concerts and festivals, a global rethinking of the role of music, and dozens of albums recorded in home studios during the isolation period. At the same time, the top 10's total take was $2.3 billion. It is notable that the list of the 10 highest paid artists consists of 9 male names and only one female. Guess the woman that keeps company with Bruce Springsteen, Jay-Z, and Kanye West?
How You Can Invest In Music
The music industry is now on the rise as online content has become more and more in demand in recent years. The times when labels had problems with attracting investors due to rampant piracy are over. Now, thanks to streaming, the music industry is entering its golden age and becoming interesting for investors. Bloomberg predicts that the music industry will quadruple over the next 10 years. Purchasing music rights is considered one of the best alternative investments in 2021.
How to Make Extra Money With the Help of Music
Think that you know all the ways to increase your income? But what if we tell you that you can make some extra money in the comfort of your home with the help of music? Sounds great, isn't it? All you need is to love music and leave an honest review after listening. Learn more about 70 Ways to Make Extra Money Today!
Kendrick Lamar Goes Platinum Again!
Kendrick Lamar's "Family Ties"' got official certification as Platinum by RIAA. That means that the song duet with Baby Keem has passed the million sales mark in the United States. The rapper now has 26 platinum plaques in his increasing collection, including 23 platinum songs and three albums. Congratulations!
About us
Store Hours
Monday – Friday: Noon – 9 PM
Saturday: 11 AM – 8 PM
Sunday: Noon – 6 PM
address
616 742 5106
129 Division Ave S
Grand Rapids, MI 49503-4215